Until recently, I've received a steady stream of emails from domainregistrationcorp regarding the termination of a domain name I own. Specifically, they request immediate payment or my domain will be cancelled within 24 hours. Here is a copy of one of their messages which get submitted via the contact forms on my websites.
TERMINATION OF DOMAIN littlecomposers.com
Invoice#: 491343
Date: 31 Jan 2021

IMMEDIATE ATTENTION REGARDING YOUR DOMAIN littlecomposers.com IS ABSOLUTLY NECESSARY

TERMINATION OF YOUR DOMAIN littlecomposers.com WILL BE COMPLETED WITHIN 24 HOURS

Your payment for the renewal of your domain littlecomposers.com has not received yet

We have tried to reach you by phone several times, to inform you regarding the TERMINATION of your domain littlecomposers.com

CLICK HERE FOR SECURE ONLINE PAYMENT: https://domaincorp.ga

IF WE DO NOT RECEIVE YOUR PAYMENT WITHIN 24 HOURS, YOUR DOMAIN littlecomposers.com WILL BE TERMINATED!

CLICK HERE FOR SECURE ONLINE PAYMENT: https://domaincorp.ga

YOUR IMMEDIATE ATTENTION IS ABSOLUTELY NECESSARY IN ORDER TO KEEP YOUR DOMAIN littlecomposers.com

The submission notification littlecomposers.com will EXPIRE WITHIN 24 HOURS after reception of this email
How to set junk-mail filters to automatically delete such emails
All of my computers run Linux and my preferred email client is Thunderbird which, once configured, saves me countless hours of time. Over the years, I have added many spam filters (rules) which get rid of 99% of emails that have no value to me. Here is a screenshot of how I set up the spam filter which automatically deletes anything that contains the words "TERMINATION OF DOMAIN" in the message body.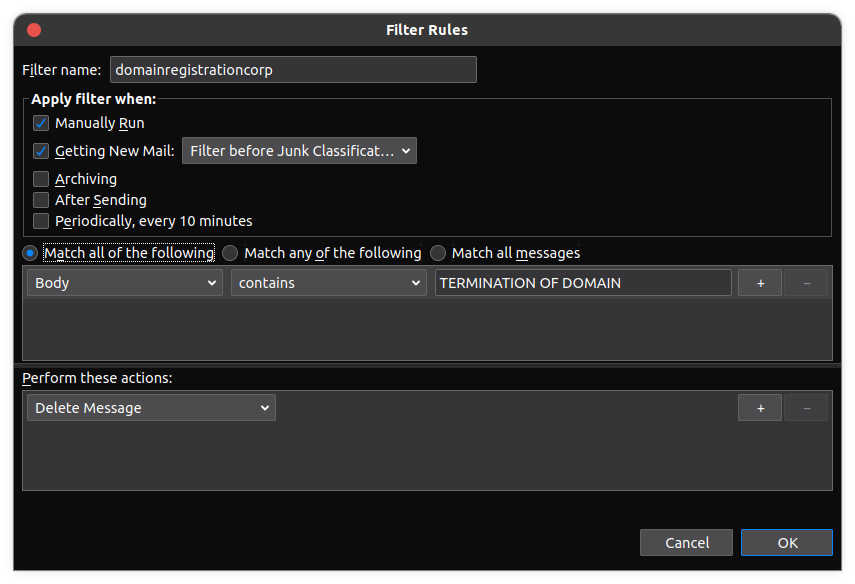 As you can see, Thunderbird has a very powerful tool which works amazingly well. Usually, junk and spam mail comes from a proper (although fake) sender but since the submission is always done via one of my contact forms, I have chosen the "Body" option and only if it contains TERMINATION OF DOMAIN. The set action is to delete the message.
Once I create a filter rule, I press RUN and in a split second, all of my emails which contain the specified phrase are no more. In time, they will think of new phrasing but I can spare 30 seconds to add to the rule.
Conclusion
Junk mail and spam are here to stay but because of clever spam filters, we only have to look at them once. Thunderbird also does a great job of learning what is junk as long as we mark it as such. Over time, the messages will be automatically moved to the Junk folder but I am not patient enough to pollute my precious Samsung NVME SSD with garbage.
If you have issues or questions regarding unwanted emails then comment below and I will answer as best as I can. Most of all, be careful and evaluate the situation before clicking on anything.
Thanks for reading.