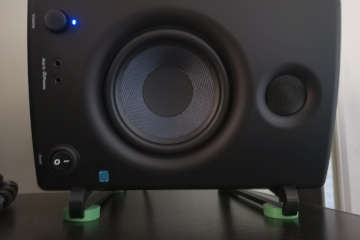 I just bought a pair of PreSonus Eris 4.5 studio monitors to replace my Mackie CR4 which broke after just two years of usage. Like so many Mackie users, my existing pair of studio monitors have stopped working because the left / right switch broke. No longer impressed with that quality, I had to find a new product that would work and after hours of research, I decided to go with PreSonus.
Eris e4.5
My studio is small so I don't want the low frequency responds which larger woofer offer. Come to think of it, neither do my neighbors. For that and some other reasons, I've settled on the PreSonus Eris 4.5 studio monitors and after a few days of using them, I couldn't be more happy.
The sound amazing and best of all, I no longer have to waste 10 minutes flipping a switch to get stereo sound. Unfortunately, I didn't find a model with Bluetooth but that's OK. Since price is always an issue, I am happy to say that I lucked out. I've been monitoring amazon since Black Friday to get the best possible deal. When I saw that they were discounted to only CAN $266.20, hit the buy button and three days later, they arrived in perfect condition.

PreSonus Eris XT
Over the last 30 years, I have bought and sold a lot of equipment. When ever I can, I buy just before a company brings out a new model. The reason for this simply based on the fact that companies dump old stock when they introduce newer models.
The PreSonus Eris studio monitor series has received a lot of praise from reviewer and no doubt, they will say even better things about the new XT series. But for an old-timer like me, the "blindfold test" is more important than what reviewers say. I do not value what others hear and instead, trust my own judgement. So do they soon-to-be replaced Eris 4.5 speakers sound worse than the new XT series? My answer is no.
If interested, here is a link of amazon (Canada) where I got mine:
https://www.amazon.ca/PreSonus-Eris-E4-5-Powered-Monitor/dp/B00GP56OYA/ref=sr_1_1?crid=2BJKNFCK4X87S&dchild=1&keywords=presonus+eris+e4.5&qid=1611439046&sprefix=presonus+eri%2Caps%2C216&sr=8-1
There is more to sound than the speakers
Everyone is always obsessed with precise measurements and frequency tests of the equipment but few consider the actual environment. My studio does not have expensive wall dampening except for one side of the room. Therefore, I do not need that 0.01% more audio quality newer models offer (yes, I've exaggerated a bit). What I am trying to say is simply that the sound in my studio is a mix of equipment, acoustic treatment and most important, sound source.
Conclusion
If you are on a budget, then grab a pair of those. Soon, the old stock will have been moved and it will be a while until they go on sale again. Then again, if money is no object or if you need to impress paying customers, then there are other and more trendy choices. If I won the lottery, then Tannoy and Adam would take the place of the PreSonus Eris monitors. Then again, if that were true, I'd be scuba diving in Hawaii and ask Siri to reserve a table at the Cheesecake Cafe in Honolulu (yes, I know that they don't take reservations).
What are your favorite studio monitors? Are you using a pair of PreSonus 4.5 or 3.5's? Leave a comment if you have questions or advice. Thank you for reading.
P.S. Thank you PreSonus for putting a little "e" into your product name. e is one of my most favorite letters.