This post documents how to fix YAST not showing icons. A wile ago, I've tried Gnome and liked what I saw. OpenSUSE Tumbleweed is my daily driver and to make Gnome look good, I install a custom icon theme. As soon as I apply it (Gnome Tweaks), YAST2 will no longer display the icons which collapses the menu options.
At first, I thought that hacking the CSS style sheet would be enough to fix the mess but it turns out that the solution to the problem is much simpler.
How to fix YAST not showing icons
We "old" Linux users usually install icons in the /home directory by creating the .icons folder and moving our icon theme of choice into that location. By default, most distributions use the default /usr/share/icons path. On most Linux distributions it doesn't matter if icons are in the home or default directory but YAST is a picky child.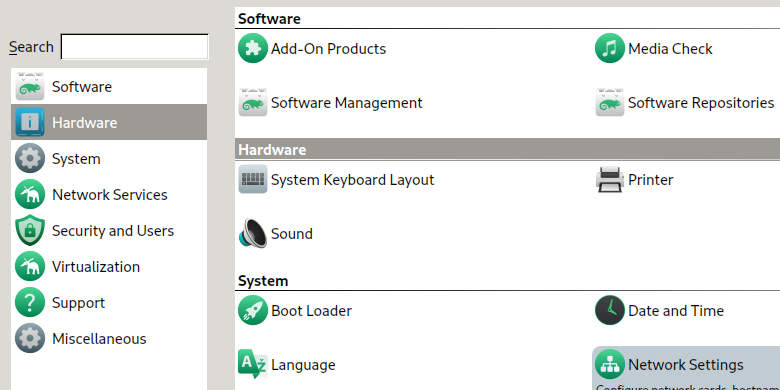 As soon as I moved the icons in the system default location /usr/share/icons, YAST instantly displayed the original icon set and I was glad. The fix took me just a minute to implement and best of all, selecting configuration options is once again easy.
In 2021 / 2022, OpenSUSE (in my case Tumbleweed) the THE distribution to beat. Just like their Mercedes and BMW cars, Germans know a thing or two when it comes to Linux. Everything from virtual machines to 3D Blender and Python programming works flawlessly and I appreciate to focus 99% of my time on being productive instead of troubleshooting.
Thank you for reading. As soon as I can find a bit more time, I will post more about OpenSUSE Linux and how well it performs when running Blender, FreeCAD, CURA, CODIUM and a handful of other free opensource software titles which I use every day.