To me, Fedora Linux is the (almost) perfect operating system especially after I enable fractional scaling for my dual 4K HiDPI monitors.
Wayland has come a long way and finally works with newer NVIDIA cards. Below, I document how I scaled my dual 4K monitors to 125% instead of the default 100%.
How to enable fractional scaling
Disclaimer!
I take no responsibility if you enter the command below. Only proceed if you know what you are doing. With that out of the way, let's enable fractional scaling.
Type or paste this command into the terminal (including the " at the end):
gsettings set org.gnome.mutter experimental-features "['scale-monitor-framebuffer']"
After you entered the above command string into your Gnome terminal, open Settings > Display and find the scaling option. Note that you need to select from a drop-down menu as shown in the image below.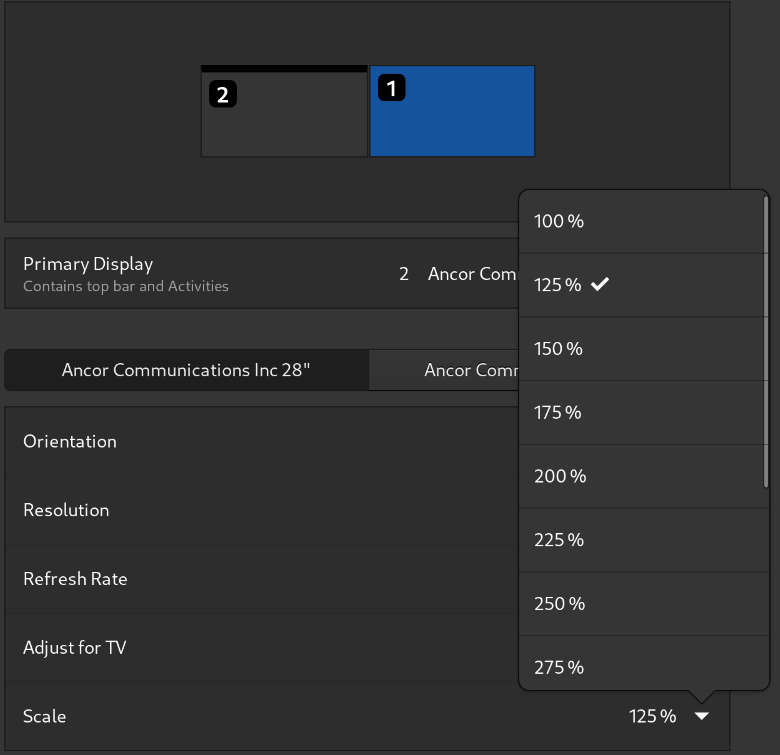 Fedora 35 NVIDIA Wayland 4K scaling
For a dual or single 28″ monitor setup, the setting of 125% or 150% works best. I also have some 1440p Ultrawide monitors which are connected to various workstations. To keep the graphics at an uniform scale, I would have to chose 150%. For programing and web design, the 150% setting is good. For graphics design software such as FreeCAD and Blender, the 125% setting is better. Complex software has a lot of menu options and icons and thus, the 125% scaling works nicely but if you eyesight is like mine (not what it used to be) then feel free to try the 150% setting.
Fedora 35 beta NVIDIA driver information
Right after installing the Fedora 35 Workstation beta, the above command instantly provided the drop-down menu for various monitor scaling options. There was no need to install any proprietary graphics drivers as we had to in the past. All in all, Fedora 35 is THE Linux distribution in 2021.
Next, I will install the NVIDIA drivers so that I get the accelerated render feature when I use Blender. Unfortunately, today is kind of busy so it'll have to wait until later. I'll update if something unexpected happens. Thank you for reading. Ciao for now.