The best Linux distro for artists who create graphics and music content is ArcoLinux
This statement is not based on a quick live USB boot impression but on my long-time usage on multiple machines. Yes, I am a fan but I am definitely not a Linux "Fanboy". If I use something, then it has to be the best option for my line of work. To set the stage for this blog post, I'd like to state what I do so that you have a better understanding why I chose ArcoLinux.
I've been a Linux user since 1999 and since then have used it on and off. If it weren't for moving to OS X in late 2009, I'd probably would have switched to Linux much sooner than last year. The iMac was a real work horse but Linux has come a long way since. When it came time to replace my workstation, I didn't buy another iMac and instead opted for a Dell Inspiron 5680. I bought it last summer and installed Linux right away,
Which is the best Linux distribution for artists and musicians
To find out which Linux distro would suit my needs best, I've tried about 10 of the more popular ones listed on distrowatch.com
After all, if the masses show a strong preference for a particular brand of Linux, then there is usually a reason for it. Unfortunately, most of those distros that I've tried had issues ether with my hardware or they didn't have up-to-date software packages. Some detected my external monitor, some didn't, some could be "made to" detect it and to make a long story short, I don't have the time to tweak for ever. Eventually, I came across a distro called ArcoLinux which I found via a YouTube video that explained how to set up local file sharing.
About ArcoLinux
The main propeller behind ArcoLinux is Erik Dubois who records a ton of explainer videos which, to me, were a real time saver. Just check out Erik's ArcoLinux YouTube channel to see for yourself
Ho not only produces the videos but is also active on the ArcoLinux forums which, in addition to the vidoes, provides a lot of specific information the users need. I frequent the forum and have gotten very valuable advise from Erik as well as from the members.
It is safe to say that in order for a Linux distro to be outstanding, it has to have top notch code and support. ArcoLinux has both as it is based on Arch Linux which is highly regarded in the Linux community.
Lets talk about work
Computers have proved to be amazing tools and software has come a long way. Linux uses a different approach to software distribution. The buzz word is "open source" which means that not only the program can be downloaded and installed for free, but the source code is also available. Some programmers augment the code and by sharing it, contribute their tweaks and features which make the end product better and better.
What do I do and how do I do it?
In a nutshell, I do web design, 3D modelling and audio recording. Web design has undergone a huge transformation over the last five years. These days, many well-known web sites deploy WordPress or one of the trendy frameworks such as bootstrap and the like. Web design can be done on any platform but I prefer Linux. HTML-driven sites can be edited right on the server and powerful code editors such as Atom, Sublime Text and the like make working with HTML, CSS, PHP and Javascript a breeze.
Unlike Windows and OS X, Linux doesn't even need an FTP client because I can mount the remote share right inside the file browser.
This way, all the content of the FTP server is as accessible just like an external hard drive that sits right next to a laptop. Once you worked that way, it is hard to go back to the other operating systems.
Graphics design
The apps I am using most often are:
Blender
GIMP
Krita
G'Mic (plugin)
OBS
Shotcut
At the turn of the century, Blender was a fringe app that had a small user base. Since then, it has continuously improved and is on track to take over the big brands which, once upon a time, cost tens of thousands of Dollars per seat. In a few days, Blender 2.8 will be release. I could fill many books with relevant information about Blender but in essence, it comes down to these two points.
Firstly, Blender is a robust 3D tool that offers end-to-end production. You can model, texture, light and render right within and even edit rendered footage so that it can be exported as a movie or demo reel.
Secondly, and this is equally important, Blender is given away for free. Because of that, no one has to use virus infested pirated software anymore as was done in the past. Blender is the go-to-tool for all things 3D on Linux. There is no second-best option and there probably never will be.
The GIMP is a powerful alternative to the expensive photo editors and I especially love the workflow which lets me size and export images for the web quickly. No other program gives me those small jpeg file sizes as GIMP does.
Krita is a similar app and especially useful when I need to work with the WACOM graphics tablet. Both, GIMP and Krita have access to many plugins. The one I use the most is G'Mic. G'Mic lets me tweack images in minutes and saves me a lot of time.
Besides those titles, there are nice screenshot apps and even a full-blown screen capture software called OBS. As most opensource software, OBS is available for all major operating systems but my Logitech C922 gets 30 frames/second on Windows 10 and 60 fps on Arco Linux. I tested multiple times just to have the correct numbers. The lower right-hand corner of the image below also shows a CPU usage of 2.5%. Considering that the software runs on a 2013 MSI laptop, this is beyond amazing.
Linux music production
First, a listing of the software I use:
Jack2
Reaper
Audacity
VSTi plugins
Music, just like graphics, is a huge topic. My DAW of choice is Reaper
Based on my observations, Reaper is on track to become the leading DAW (digital audio workstation) for small to medium sized studios. I bought instruments and audio interfaces which include cut-down versions of software titles that rule the industry. Upgrading the limited edition software would cost hundreds of dollars which isn't a big deal if it can do the job well. Unfortunately, this isn't always the case.
All of my recordings feature the sounds of the YAMAHA Genos which right now, is the best arranger that keyboard money can buy. The instrument is amazing but connecting it to a DAW was not high on the designers minds. In order to specify a sound, a complex procedure of actions is needed if one wants to get the most out of the equipment. Yes, average results can be gotten by many but only a few can produce the sizzling stunning result.
Reaper skins
I have a weakness for good-looking software. If it looks polished and responds instantly then I consider it worth learning. Reaper has all the features that I would ever want but the default install is a bit scary. Good news. There is an easy and quick fix. Many artists have created awesome-looking skins which can be installed with the click of a button.
My creativity is influenced by visuals that surround me and luckily, I have top notch equipment to work with.
Here is just a segment of the Reaper UI which runs on my 34″ LG ultra-wide monitor.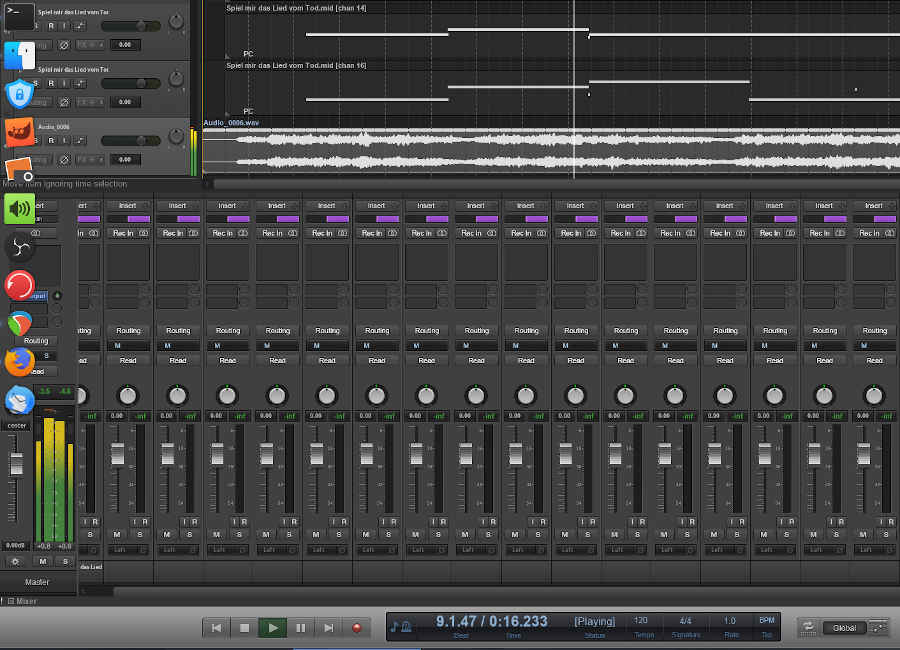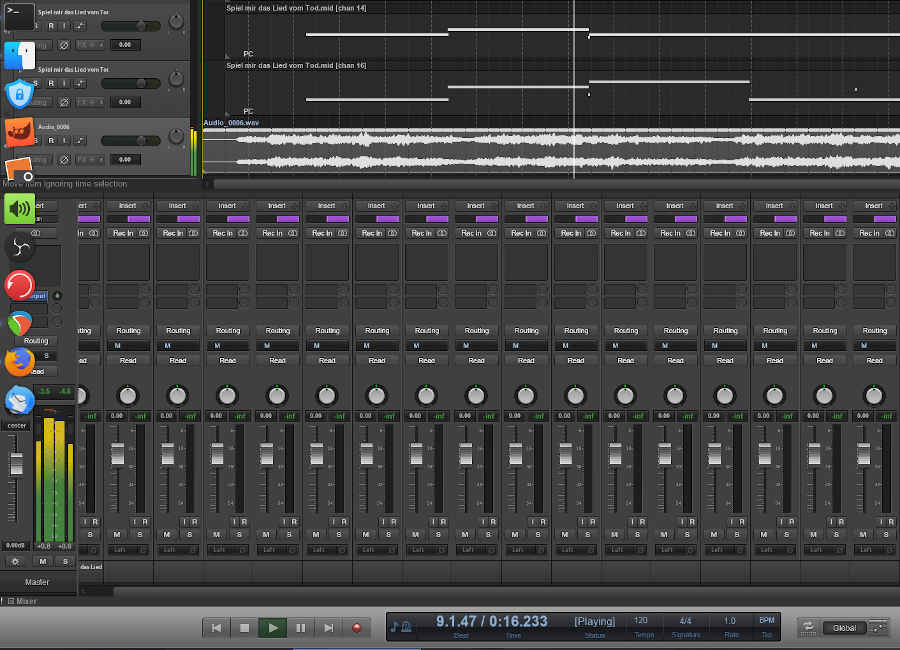 Conclusion
Every Linux distribution is able to run the same programs. You might ask why ArcoLinux is special then? Based on my needs, ArcoLinux is the fastest and most stable distro that happens to support all of my hardware. Here is a quick list of what I use:
Dell workstation w Nvidia 1070 (8 Gigs of RAM)
Dual Acer 28″ 4K monitors
Mackie studio monitors
WACOM Pro L tablet
Steinberg UR22 mkii audio interface
Logitech C920 webcam
MSI Latop w K2000m GFX card
LG Ultrawide 21:9 display
Bose speakers
Logitech C922 webcam
HP laser printer
Luckily, the hardware I've listed above is Linux friendly and can be configured with minimal effort. As long as I use ArcoLinux, setting up a new system from install to first use takes about 30 minutes. Thanks to Timeshift, I can backup and restore any of the two machines in just minutes.
If you are not running Linux yet, then I suppose that you are happy with the operating system your computer came with. If you run Linux but for some reason the speed or outdated packages bug you then I recommend that you check out ArcoLinux.
I almost missed this gem had it not been for the frustration I experienced setting up local file sharing under Manjaro. You always know that you are on the wrong path if countless forum topics send those who need help all over the net and the WIKI page displays a warning that the article is outdated.
To me, local file sharing is a must and I have little patience for slow performance. I've tried many dirstros over the years and on my equipment, none perform as well as ArcoLinux does. My iMac screen gave up about two years ago and at first, I missed that OS X look. Now I have it all back and much better and faster than ever. The dock features similar icons as OS X and they even magnify when I mouse over them.
All of this only scratches the surface. There is LibreOffice which makes writing eBooks a walk in the park. Dozens of powerful commands that encrypt, decrypt, create secure passwords and much more. I can launch Firefox in a sandbox which, these days, is probably a good thing to do when navigating the less lit corners of the internet. Thunderbird and it's powerful spam filters take care of all my email needs and FreeCAD saved me six grand because I didn't have to buy SolidWorks which only runs on Windows.
I have found my Linux distro and if I were a little bit smarter, I would stop live booting new offerings when they pop up on distrowatch.org because in the end, few if any have the speed, polish and visual that ArcoLinux suplies with a standard install.